When implementing self-checkouts, one of the most important issues for retailer is to reduce staff costs. Hiring, training and maintaining employees is associated with a lot of difficulties that automatic self-checkouts do not have.
Equipping checkouts with functional software allows devices to seriously compete with employee, provide retailer with better shopping experience and significantly reduce costs in the long term.
Cashier staff expenses
We analyzed data from job sites and roughly calculated the cost per employee. The monthly average salary of cashier in Moscow is 41000 rubles, in Novosibirsk is 30000 rubles. If we take Moscow rates as a basis:
Salary of a cashier is 492000 rubles per year.
47% employee tax (PF, FSS, FOMS, personal income tax) – 231240 rubles per year.
Total 723240 rubles per cashier every year, but that's not all.
For employee by law it is necessary to provide vacations, sick leaves. There are personal circumstances and external factors that affect performance. Household expenses are also added.
There are various methods for estimating the above costs. They are approximately equal to 20% of the wage level. In total, such costs will amount 98400 rubles and the total costs per 1 cashier per year are:

Self-checkout cost
As model for comparison self-service checkout with 15.6″ diagonal, 1D/2D code reader, equipped with an online checkout, POS terminal is used (issued by most popular banks free of charge and requires only payment for acquiring services).
Bright screen is suitable for deploying web-based interface, demonstrating any graphic content.
The one-time cost of such self-checkout with all equipment and software is:

*this calculation is made for a single cash desk. The total cost is calculated in accordance with the software licensing model (cloud format or perpetual license purchase), type and number of self-service checkouts. If you purchase a large number of devices, the cost of hardware and software will be lower.
Other expenses for self-checkouts
The approximate cost of one-time commissioning, regardless of the number of connected self-checkouts – 100000 rubles.
Any technical device requires periodic maintenance. If the retailer employs an engineering specialist or uses outsourcing services, self-service checkouts will be serviced under the concluded contract in the same way as cash registers with cashiers, they will also use receipt paper and no additional funds will be required.
Payback periods of self-checkouts in comparison with an employee
At cost of ~820000 rubles per cashier every year and the cost of one self-service checkout ~ 300000 rubles, including commissioning ~ 100000 rubles. (the amount of commissioning works is fixed and one-time, regardless of the number of self-checkouts), the payback period will take:

Result
In less than six months, self-checkouts will pass the payback point in comparison with the same number of live cashiers and then begin to significantly save finances, which in the long term will become more and more noticeable for the retailer.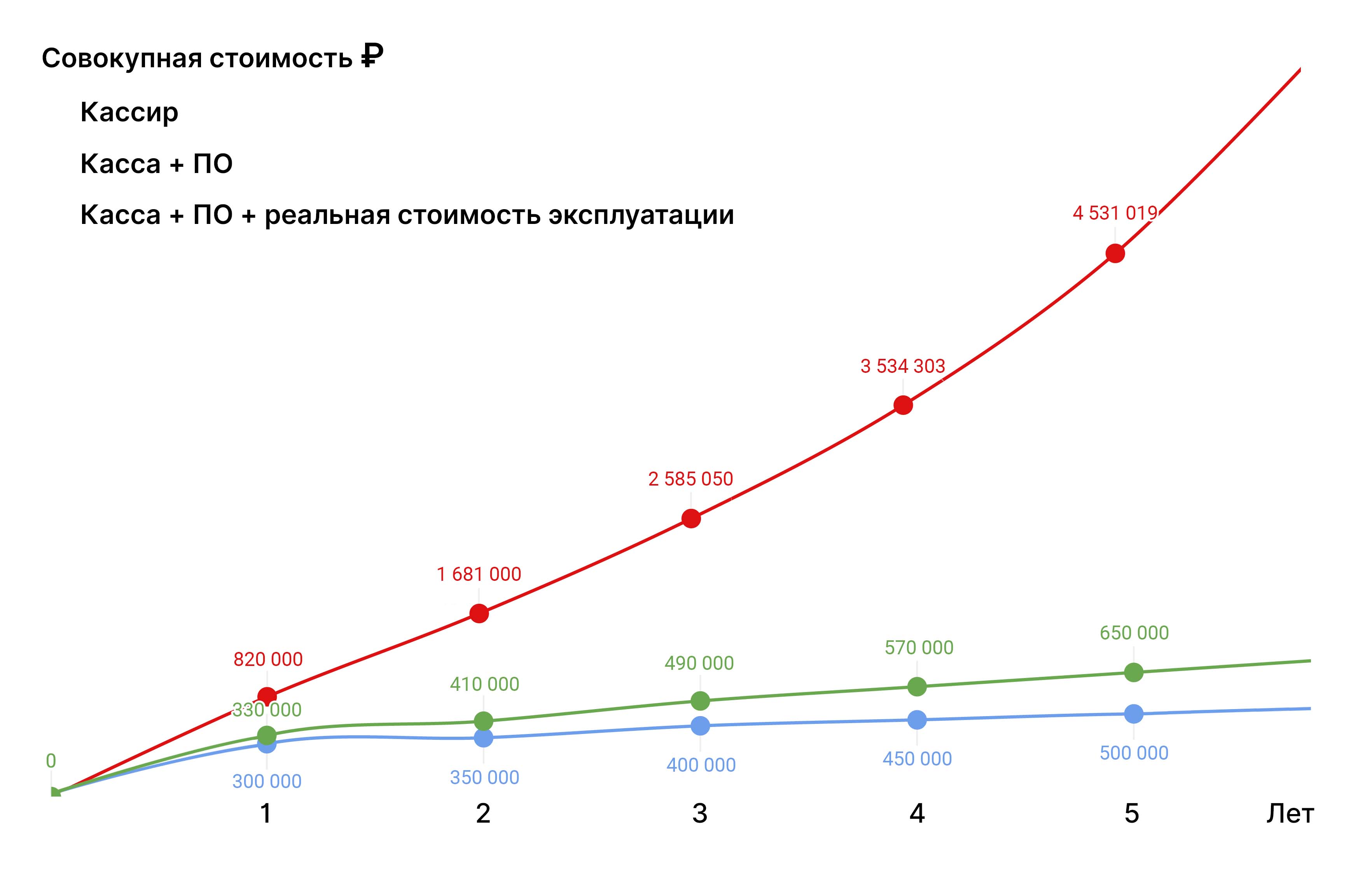 An annual 5% indexation of employees salaries is taken into account. The total cost of self-checkout grows only due to the cost of software and operation costs. If you purchase a perpetual license, the total cost will be lower.
The data above clearly confirms the benefits and financial prospects of self-checkouts for retailers. Smartix equipment range includes a wide amount of self-service checkouts and even the most expensive and functional model will not cost more than half of the annual salary of one cashier.
Conclusion
It should be taken into account that installation of self-checkouts is a gradual process that does not mean an instant transformation of sales bypassing employees. It will take some time to reorient and attract the attention of customers to the devices, at this stage, temporary interaction of kiosk with the staff will be necessary.
If retailer's products contain 18+ category goods, at least one consultant will also be required in the hall, who according to the law must personally check the documents of each buyer of goods of the specified category. Smartix effectively solves this problem through confirmation of shopping cart with barcode on a badge or RFID employee card.
All Smartix self-checkouts are united in a single back office, technical monitoring, sales statistics, notifications sending to responsible personnel are provided and there are remote system for updating self-checkouts software.
The devices support integration with retailers accounting systems, various self-checkout scenarios, weighing equipment, bill payment, interactive storefronts, cross-selling, and loyalty systems. Smartix software allows you to launch any new functionality following the increase in the level of retailer automation and flexible needs of the retail industry.